Tour immersed in the Montagnola Senese, an hill area to the west of Siena , covered by Mediterranean scrub. During the tour you can visit the hermitage of San Leonardo al Lago, with its small square apse decorated by a cycle of 14th century frescos by Sienese painter Lippo Vanni. Another unmissable stop of the day is the beautiful medieval town of Monteriggioni, with its ancient walls and towers.
The tour includes a light lunch with a tasting of 3 Chianti wines, after a guided tour of the vineyards and winery.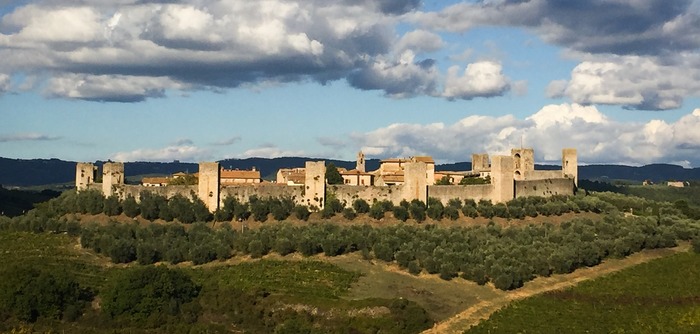 PRICE PER PERSON: 2 people: 130 € / 3-4 people: 100 € / 5-6 people; 95 € / 7 people: 90 €
---
DURATION: Half day
---
WHERE: Montagnola Senese - Monteriggioni
---
WHEN: From March – November
Hybrid bike or MTB
Bike guide in english, french or spanish language
Light lunch with tasting of 3 wines
Pick-up e drop off in hotel.
OPTIONAL SERVICES (PRICES ON REQUEST)
Electric bike (e-bike): + 15 € per person
Road bike: + 15 € per person
Lunch
Van support
Cooking class
Activities for non-cyclist
2 people: 130 euro
3/4 people: 100 euro
5/6 people: 95 euro
7 people: 90 euro
Share: