A unique naturalistic experience, riding on gravel and paved road through Crete Senesi region. The tour will lead you to the beautiful towns of San Giovanni d'Asso and Chiusure
before to reach Monte Oliveto, Benedictine abbey located on a hill covered by cypress trees, in a strategic position in the middle of Accona desert. Monte Oliveto is one of the most important religious sites in Tuscany, for territorial and historical importance.
The standard tour includes a lunch in a local restaurant not so far from the abbey.
You can decide to change (with an extra charge) the lunch with the truffle hunting activities, where you can first discover the secret of the truffle then, accompanied by the "tartufaio" and the trained dogs, you'll head to search for these precious underground product.
After the truffle hunting you can taste or have a full lunch with truffle.
---
WHAT'S INCLUDED
- English speaking guide
- Trekking bike with helmet and water
- Lunch in local restaurant, wine not included
- Delivery of the bikes to the starting point
---
OPTIONAL SERVICES
- Electric bike (e-bike): + 20 € per person
- Truffle hunting and tasting or lunch with truffle
- Van support
- Pick-up e drop off in hotel
- Guide in spanish, french or german language
---
PRICES PER PERSON
- 2 People: 180,00 €
- 3 people: 150,00 €
- 4 to 6 people: 130,00 €
- 7/8 People: 120,00 €
- Over 8 people: on request
---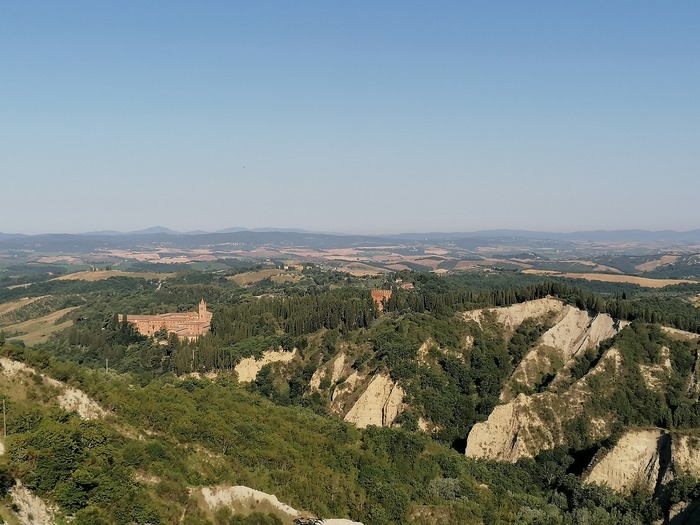 PRICES PER PERSON: 2 people: 180 € | 3 people: 150 € | 4 to 6 people: 130 € | 7-
8 people: 120 € | Over 8 people: on request
---
DURATION: 5 hours (from 10 am to 3 pm)
---
WHERE: Buonconvento - Monte Oliveto - Crete Senesi
---
WHEN: all year long
Share: