Small group e-bike tour in Val d'Orcia and Chianti

E-BIKE TOUR IN VAL D'ORCIA
DAYS: TUE - SAT
TIME: from 9.00 am to 4 pm
PRICE: 95,00 € per person
LEVEL: 1 - 2 - 3 - 4 - 5
---
The bike tour in Val d'Orcia, UNESCO world heritage site, will make unforgettable your Tuscan holiday, riding on the typical hills and visiting small villages like Pienza, Bagno Vignoni and San Quirico d'Orcia.
During the ride we'll visit a cheese farm, taste different samples of sheep and goat cheeses made from raw-milk and cold cuts.
After the farm we'll follow the Orcia valley direction Bagno Vignoni, charming town where we'll stop for a quick visit.
The meeting point is fixed at 9.00 am at San Quirico d'Orcia.
The tour start with minimum 6 participants.
WHAT'S INCLUDED
- English speaking guide
- E-Bike rental
- Helmet and 1 bottle of water
- Stop in a cheese farm for a cheese tasting with cold cuts
*Discount if you bring your own bike
---
E-BIKE TOUR IN CHIANTI
DAYS: WED - SUN
TIME: from 9.00 am to 4 pm
PRICE: 95,00 € per person
LEVEL: 1 - 2 - 3 - 4 - 5
---
The E-Bike tour in Chianti region will lead you to discover one of the most important wine area in the world, for the quality of wine and beauty of landscapes. Chianti offers a unique landscape: gentle hills covered by vineyards and olive groves, small stone villages and farm houses. We'll start biking in the south part of Chianti direction the small town of Villa a Sesta and the 12th century Castle of Brolio, with a breathtaking views over the vineyards and Siena.
The bike tour, long 42 kilometers, includes also a wine tour and tasting in a Chianti winery, with light lunch.
The meeting point is fixed at 9.00 am at Castelnuovo Berardenga.
The tour start with minimum 6 participants.
WHAT'S INCLUDED
- English speaking guide
- E-Bike rental
- Helmet and 1 bottle of water
- Wine tour and tasting in a Chianti winery
- Light lunch
*
Discount if you bring your own bike.
---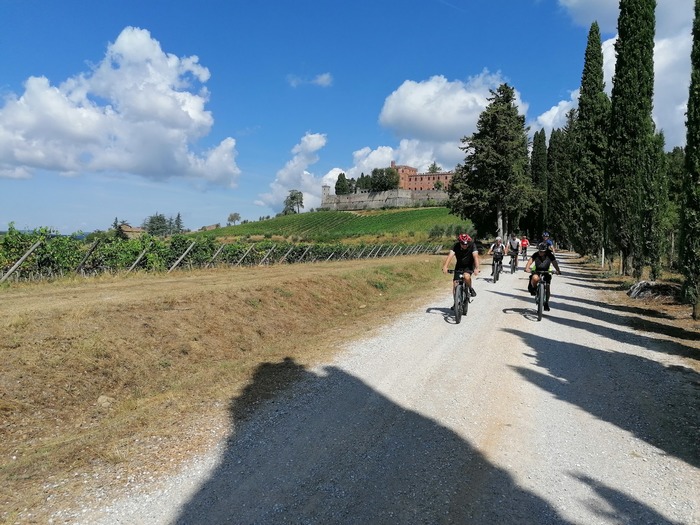 Share: